I think with the cusping of all kinds of deadlines, cohort stresses, atop the late bloom of Spring — my body gave it's last push for staving off a cold/allergy attack putting me in the bed for the weekend…
But on the topic of programming, PREFACE: this week's schedule was…
Wednesday: Studio Day — to prepare for Critique Day for all FOUR previous assignments (the previous two critiques were cancelled due to snow days)
Friday: Critique Day
The great news about my programming is that 8 of my kids are CRAZY motivated and super serious about their projects, working hard through our last preparation studio day — with even a few coming in on Thursday evening (not a scheduled program night) to make sure they were good to go for the Friday critique.
Bad news is…that is only half of my kids. The other half seem to be crumbling under the pressure of deadlines and actual "rules."  Many getting flustered with the idea that they were actually going to have to speak in public, their certifications were dependent on their competition of hours and/or the assignments during each segment, or that I was put the line down of coming late would result in a lock out.*
*-These were things that were laid out in the info session, in orientation, at the beginning of each section…and discussed during almost every housekeeping time.
I knew attrition would happen…I was semi-prepared for a few.  But to be honest, I thought if the content was engaging and interesting there would be less (if not none).  Maybe that was silly to think.  Because come critique day only 8 kids showed.
EIGHT.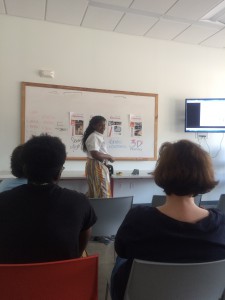 At first, I was upset…but once the start time arrived, I had to pull up the boot straps and start.  The silver lining of a low turn out was that it allowed each child to have as long as they liked.  With the full batch we would have had to have only 8 minutes each, with a 2 minute transition between students…and that would be 8 minutes for an intro, a showcase of their items, a reflection of what they learned, and only a short time for Q/A or feedback.  With only half that gave each child up to 15 WHOLE minutes to talk about their projects, what they learned, what they struggled with, paraphrase their training…and even getting to share some of their new knowledge with the parents and/or support people who joined the participants.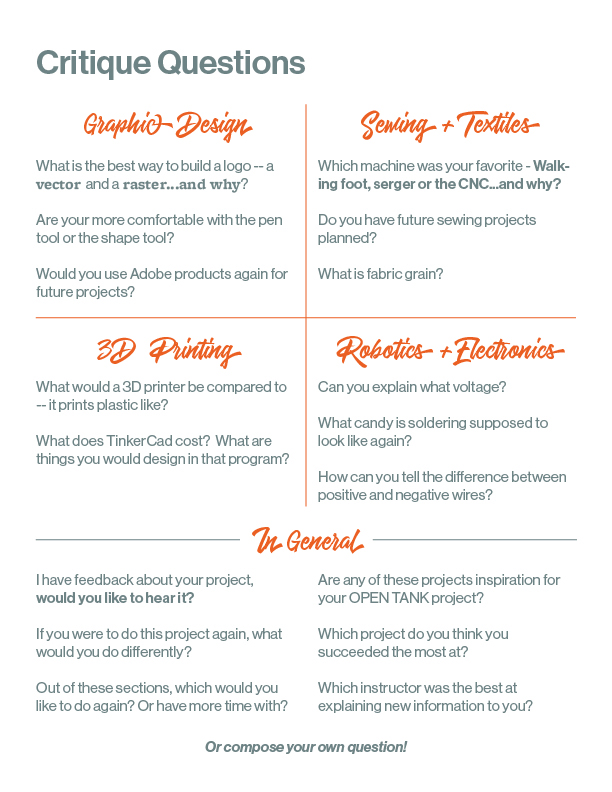 I heard my own words of training come through their mouths —
"Color theory reinforces certain emotions when it comes to brands.  Calming colors give a customer a feeling of trust.  Brighter colors make people feel more active — like McDonalds and their red + yellow combination — it makes you want to eat, while more reliable companies tend to stay in blues and purples"
"This was my first time trying this, but Miss Nacho keeps telling us it will take years to hone ourselves to be professionals, so not to give up"
"A 3D printer prints like a pastry bag drawing on a cake…but more like a hot glue gun…anyway, they way you set up your file directly correlates on how much you use — and that impacts both the cost of the item AND the environment" (we discussed plastic waste)
My favorite one was "I have critical feedback about your project, would you like to hear it?" (several participants used it, everyone always said yes, and every time there was true critique of how to make the piece better)
And I could not have been more happy with the parents that joined — all were wonderful…giving amazing advice, personalized encouragement and real-world insight.  I think having non-parental adults (i.e. not their parents), besides myself, telling them they did well or that they could have a real product did some amazing stuff for their self esteem.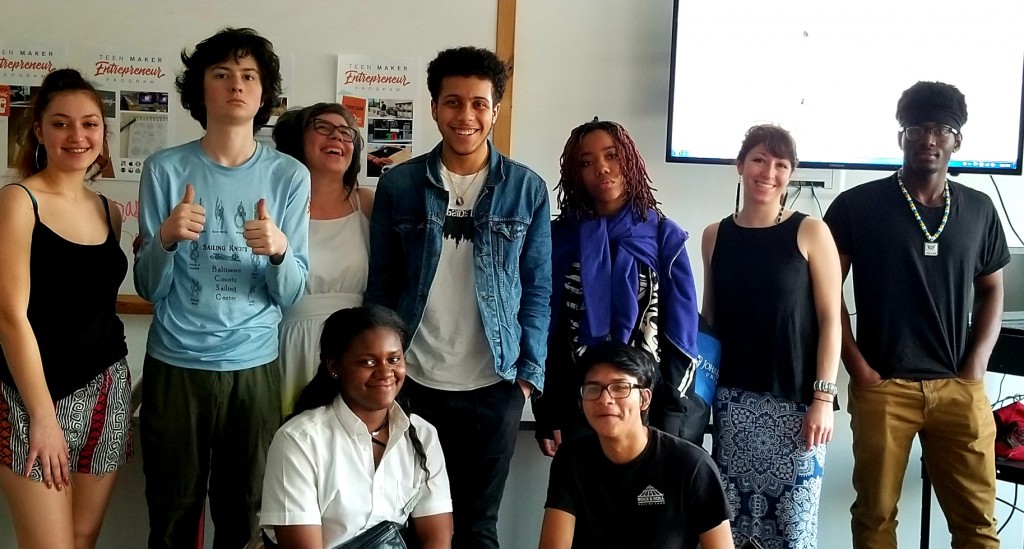 As we were closing, I was also super touched when one of the participants asked the question if the other kids would also be getting their certifications.  I notified them this critique was like a lot of things in life — job interviews, client presentations, or other similar deadlines…if you don't show up, you don't get the job and/or you don't get paid — so in turn, for those who did not show to critique, without advance notice, would not be getting their certifications for those sections — no matter if they had completed the assignment or not.  I waited to hear their reaction thinking I might get some flack from the parents, but all the kids chimed in and thanked me for holding up the parameter or expressed their understanding and/or support of the repercussion, with their parents nodding in agreement.