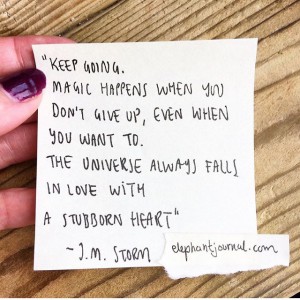 Oddly — Spring Break was well timed.  Just as soon as I got close to the edge of the finish line of the first half of the semester…I feel like I just fell apart.  Life, work, class, joint issues…and an old trauma…seemed to trigger all at once and I had a panic attack the last Tuesday of class, then I had a death in the family — overall causing my mental stability took a dive.
I am struggling currently, I think, with "who I am" and who I am building to be — Theresa or Nacho, Phoenix or Baltimore, B-More or Small-timore…and who is the community artist I am incubating.  I would like to say I am "Nacho" — new Baltimorean, Mixed-Race MICA grad student and Community Artist in Residence at a local maker's space, with an almost completely secure future at OpenWorks, who knows exactly WHY she is a community artist.  But she brought all the baggage of "Theresa Montiel" — a pessimistic and aging half-white trash child of a single mom with PTSD.
On a good day, I say I am Nacho"Agent of Change" with both double fingers up to "The Man" with a charming smile and a cheerleader's voice's projection of hope.  Great at "pulling up boot straps," having navigated the trek out of the ghetto without a map and feels savvier and stronger for it.  But often, Theresa worries about doing harm and gets overwhelmed on how much racism and misogyny and just plain evil there is…and that I will never ever be working hard enough and cannot accept the accolades given for months (or some could say [background] years) of work.
I know all the cohort members — both of year 1 and 2 — have had this "imposter syndrome" episode (or a few).  With all this self reflection and critical thinking it is difficult not to slip into that bunny hole. I just didn't realize how close to the edge I was.  I joked that I have been floating in the water of overwhelm, where the water line lives right at my upper lip level — I can still breathe out of my nose, I can periodically bounce myself out of the water, but constant energy is needed to stay above water.  But it's fuckin' grad school…it is supposed to be hard, it isn't supposed to be a cake walk.  I just struggle with the odd water gravity…it seems easy on the surface, but the weight of water also slows me down.
The mass letter to the entire cohort from a "professor" didn't help matters…
And being in a "new" place — with everything in flux, none of my "normals" are there for outlets. I am used to being more resilient, bouncing back quicker.  Is this aging?  Or this new muscle memory?  Is it a little of column A, a little of column B?
I guess I am just used to having stronger parameters and set rubrics of success. Here I am floating and any root or tether I feel like I am putting down doesn't feel set — because they aren't.   So little is set, so much is in flux, so much has changed in this last year…and even more will change in the next year…but how do you get your sea legs and float…and rub your tummy and pat your head all at the same time…WITHOUT having self-doubt?
The odd thing keeping me sane is my kids…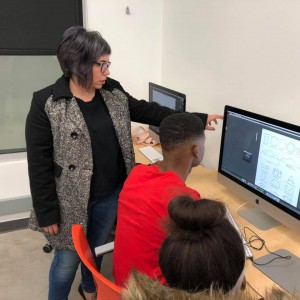 I have a habit (or skill) — coming from being an older sibling and a parentified child — of when faced with others in need, I can turn off 90% of what I am dealing with so that I can take up the flag of others' issues.  I had my episode with myself for a spell…but the second it was time to get back to class and teaching and doing "the work" — I could go into "Nacho-mode" and be somewhat of my normal self.  My kids did notice I was "off" — but they all asked things like "Are you getting sick?" or "Did you just wake up?" when I first walk into the classroom…but by the end of the third hour of class they were always encouraging of my bounce back and thankful for our time.
I do truly feel blessed to have such a wonderful batch of kids.  They are respectful, engaged, driven, and anxious to learn — despite, for some, their day being 12+ hours long.  They gave me my motivation, they inspire me, and made me happy to be there and gave me a ray of light in my depressive state.
Hiccups
My only issues or complaints are minor and something that could be easily addressed if I wasn't the only facilitator in the classroom.
1.  Surprise guests — I have had more than one invitation and planned (and surprise) guests visit or shadow while I am teaching.  When it is planned, I can introduce them appropriately and keep things on trek…but surprise visitors are something of a juggle.  Sometimes they come early and I can introduce them, but then they interject into the class time at odd intervals and/or ways…or sometimes they simply show up in the middle of session and I have to pause my tutorship and address the new person — giving introduction of them, what the program is, OR even answer their in depth questions on the fly.  It changes my momentum and flow and I do my best to stay up on the balls of my feet, literally and figuratively…but it is something I need to work on getting a better handle or figure out how to rectify it in my own mind (as it is an open studio and a program under scrutiny, so it is just par for the course)…so recourse is still TBD.
2.  Vearing onto the internet — with both graphic design sections (section 1.1 and 1.2)…when at a computer with the internet…a few times the kids would kind of go off the rails and get off task and end up on YouTube or on a videogame. TAKEN — I get that they often have waves of inspiration and the temptation of the internet is tempting to teen or adult alike…and I have set a few kids to the task of doing internet research of what OTHER logos or brands use for their visual vocabulary or color schemes — or even for photographic reference for what they are trying to draw.  But I simply remind them about the finite amount of time that we are in the studio…and their certification hanging in the balance of a finished project…and they will tentatively bounce back to the task at hand.
Moving forward with the next cohort for TMEP…I think I would make sure there is more than one facilitator…so that when I have to handle things in the other studio, there is a facilitator keeping them on task AND also a second pair of hands to help walk them through their new knowledge (which I think the waiting time for me to come around to them also creates boredom and sends them down internet bunny holes).  But sadly, that wasn't something that I could "fix" with this section…and had to make do.  #LessonsLearned
Proud Momma
I was invited by several of the Seniors at Baltimore Design School to come to their symposium showcase.  My students that were showing were mainly Fashion and Graphic Design tracks at the school…and with the tie and timing of the program I was more than happy to attend and was so happy I did.
Even though I was invited, I was greeted with such pride and surprise from my kids who were exhibiting.  My teens were introducing me to their parents, their fellow teachers, even their principal as if I was the celebrity — not them or their pieces.  All my kids beamed as they escorted me around the hall and gave me insights of how their newest knowledge addition had added to the products being displayed.  One of the fashion students even showed her JUST created pajama pants in her fashion collection (the Textiles Assignment from TMEP)!
I couldn't have been prouder of them if they were my own babies.  I felt like an Auntie, a mommy, a sister, and a friend all rolled into one! To see the cusping of adults and the buds of what will later grow into large successes is humbling and wonderfully inspiring.
It was also super interesting to learn and see first hand how these kids are navigating in this "specialized" school.  I learned that once they decide on a 'track' there are no other "electives" outside of that track…so a Graphic Design student cannot take a fashion class for fun, an Architect student only takes architecture focused class, and although there were physical garments shown the fashion curriculum is much more about theory, merchandising, and history than actual construction.   So I was told by students, parents, and teachers alike that what I was offering to the students at BDS was a REAL resource — which is exciting — because this just solidifies my mission.  If even a design high school like BDS, cannot feed all the artistic needs of their student body, OpenWorks and the Teen Maker Entrepreneur Program is something that MOST Baltimore High School students could benefit from, if not even need.