With the goal of overall career preparedness, armed with an already prescribed budget, aided by the reconnaissance I had gathered from both the Open Works, a Baltimore-based makerspace in the Greenmount West neighborhood and it's community paired with my Masters Program education, I implemented my theoretical curriculum through a now legacy program I named "The Teen Maker Entrepreneurship Program" starting in the Spring of 2018 as apart of my MICA Community Arts graduate program and my congruent AmeriCorps service.
I laid out a 16 week program that was focused on skill acquisition through the Open Works studios + certifications that were already in place. Following the basic curriculum framework, I created action plans that took participants through a small, medium, + large projects that compounded on the previously learned project skills, focusing on each studio's disciplines in two week intensives. Through my five cohorts we covered techniques in Graphic Design, Textiles + Sewing, Electronics + Robotics, 3D Printing, Laser Cutting, Wood Shop, and metalshop with a final section focused on entrepreneurship, product development + financial literacy. The program's primary goal was to give participant's both life and career agency with exposures (and successes) to slew of possible career pathways to even artistic hobbies in making and the arts.
I branded the program myself and permeated the brand standard across action plans, presentations, and other support materials. Each cohort's material's evolved slightly to reflect the programatic change and studio focuses, while still staying within the branded overall theme.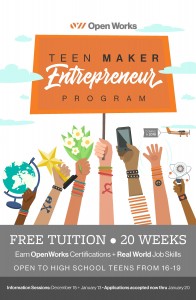 Based on the pilot semester's success, the program went on to partner and gain funding from such organizations as the Robert W. Deutsch foundation, Maryland Institute College of Art, The National Endowment for the Arts, and the Annie E. Casey Foundation.
This program later would be the basis of my written thesis and final exhibition in May of 2019.